This blog is longer than my usual offering but worth it, I hope, for the point it makes.
If you don't have the time (or possibly the inclination!) to read it, you can listen instead:

I've just come back from a week away, travelling around the UK on business. I stayed in three hotels on my travels. The first two failed with their customer service in such small, easy-to-put-right ways — the third showed them how to do it.
Here's what happened:

I walked into the spacious room and looked around for somewhere to dump my suitcase. There was nowhere. So I had to put the case (which I had just wheeled across a muddy car park) straight onto the bed. Either that or leave it on the floor and unpack it by bending up and down. (Fail #1  Solution: a suitcase stand.)
I looked around for somewhere store the stuff I couldn't hang in the wardrobe. The only place available was a couple of desk drawers. I had to fold my newly-ironed clothes and stuff them into tiny, weeny drawers. Thanks. (Fail #2 Solution: a small chest of drawers or bedside table with drawers — there was plenty of space in the room.)
It was late. I was tired after a very long drive. I just wanted to relax and watch a bit of mindless television. Unfortunately, the TV was small and fixed to the wall so high up (about a foot from the ceiling!) that I couldn't watch it without lying back on the bed, or suffering a crick in my neck (Fail #3  Solution: put the TV where your residents can watch it sitting in the chair as well as lying in bed).
I gave up on the TV watching and fell asleep. My room was right next to a fire door in the corridor. All night long, as people walked back and forth through the door (who were these people, wandering about in the small hours?) it banged shut and woke me up (Fail #4  Solution: a gradual door closing device fitted to the fire doors).
The next day I moved on to…

I arrived late at night and struggled in with my suitcase, laptop case and paraphenalia. No-one in reception. Just a single key and a booking-in form lying on the table (Fail #1  Solution: a welcoming note and a bell to summon the staff). The key had a number on the fob, but there was no sign which included my room number, so it was 'hunt your room' time (Fail #2 Solution: better signage). I guessed my room was upstairs so hauled my stuff up, dragging and bumping through various fire doors, and eventually found my room.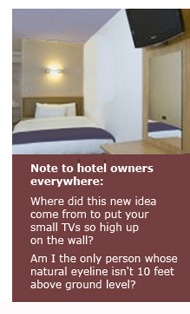 It was pleasant and I was relieved. I was tired and just wanted to rest before an important meeting the next day. I made tea with the tiny little pot of revolting UHT milk (Fail #3  Solution: a small jug of fresh milk). Too tired to be bothered to call down for fresh milk, I kicked off my shoes and sat down to watch TV. Once again, it was so high up I couldn't watch it comfortably (Fail #4 Solution: you've guessed it…).
No matter. I lay down on the comfortable bed and anticipated a restful night's sleep. At 3 o'clock, I was woken up by a loud humming noise. I worked out that it was the bathroom extractor fan from the room next door. Oh well, I thought, it's bound to be on a timer. Wrong. (Fail #5 Solution: put noisy extractor fans on cut-off timers). The noise continued. I didn't get back to sleep until well after 5am. Which meant that I slept through the alarm, had no time for breakfast and had to rush off to my meeting, stressed and hungry.
My final night was at…

By now, I'm very tired and not a little grumpy. I have an important event to attend the next day for which I need to be wide awake and at my sparkling, networky best. But I'm worried, hotel number 3 is the cheapest, it's right in the middle of a busy urban area, and it's just 3-star.
Which just shows how wrong I can be.
I arrived to a warm, personal welcome from the owner (even though I arrived late in the evening). I was helped to my room and shown all the amenities. When I mentioned that their cut-off time for breakfast might be a little early for me, she said that she would be happy to make breakfast for me at a later time, if I wished. All I had to do was ask.
Although on the small side, the room was immaculately clean, well furnished with space to put everything. It was full of thoughtful touches, such as a small jug of fresh milk (hurray!); a brilliant hotel information folder; good-sized glasses and mugs (none of those tiny cups which hold only two mouthfuls of tea or coffee); plenty of good-sized fluffy white towels on a heated towel rail; 'touch sensitive' bedside lamps (where you simply touch the base to switch them on and cycle through three brightness choices), and so on. All this in a 3-star hotel, remember.
I slept like a baby (albeit an old baby) and was downstairs, fresh as a daisy, for my breakfast, well before the cut-off. I was welcomed by the owner and, all the way through breakfast and checkout, nothing was too much trouble for her and her staff.
Personal service, reasonable price, thoughtful little extra touches. That's customer service.
So, what can we learn as business owners?
That the little things count and can make or break our businesses. And very often, these things are relatively inexpensive to put right. We should take time to look at the whole business experience — from first contact, through to the sale and the after-service — from the perspective of our customer. Mystery shop your own business! Be open-minded and don't make excuses or justifications for what you find. Just work to put right the irritations, large and small, and think personal. We know that customers are the lifeblood of a business. Treat yours as you would wish be treated. No exceptions.
After all, you don't want to read about your customer service failings on a blog by a disgruntled, unhappy customer like me, do you?
Here's a TED video by the always-engaging Rory Sutherland about the importance and business value of the small stuff: