There's a saying, 'You don't know what you don't know', and you may not know how Essential Business materials can help you. Many business owners use our products to help them start up, run and grow a business, and many organisations use or materials to help them deliver training for their clients.
Here are some innovative examples of Essential Business materials in action:
Warwickshire College: Global Entrepreneurship Week enterprise activities
During Global Entrepreneurship Week 2014, we delivered aspects of the Essential Business Journey programme to hundreds of students across four campuses at Warwickshire college. The students were given a series of challenges to help develop their enterprising skills. They were also encouraged to think more clearly about their longer term personal goals and aspirations, and develop strategies for achieving these goals.
I just wanted to thank you all sincerely for all your efforts, help and support last week – which went incredibly well. Feedback from across the College has been great and its really helped to raise awareness on how important the Enterprise agenda is to the college, and how much more we could do! You are a great team of people to work with, and thanks also to the two outside speakers you organised.
Marla Nelson, Director for Enterprise and Entrepreneurship, Warwickshire College
Enfield Libraries: Raising enterprise awareness
Enfield's library service was one of ten local libraries to receive funding for business support under the national Enterprising Libraries grant programme. The Enterprising Libraries New Biz programme was delivered by Enfield libraries in partnership with Enfield Enterprise and provided six weeks of free training and advice for local people who want to start their own business. All participants in the programme benefitted from our Planning and Starting Your Business workbook, and Sue King, Marketing Manager at Enfield Enterprise said of the workbook:
The workbook is an ideal resource for this programme… it will provide participants with all the information they need to develop their business plans. It is clear, easy to understand and explains everything step by step. It also allows participants to make notes and develop their ideas as they go along.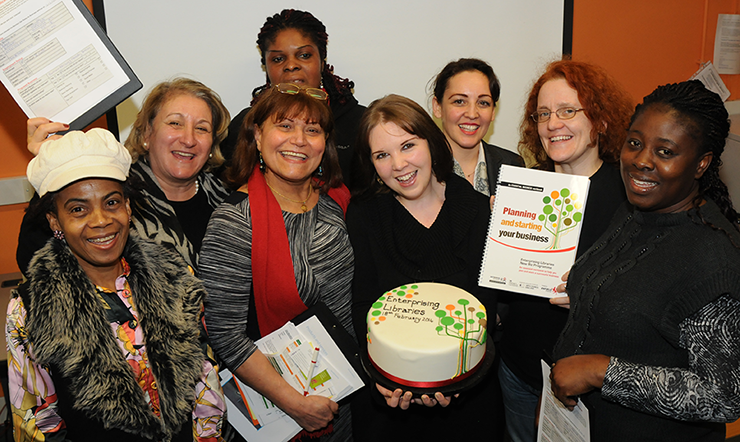 MarketInvoice: Business finance training for staff
MarketInvoice offer invoice financing services to small business through a unique online platform. In 2014, they used our Understanding Your Business Finances workbook to support the training of their frontline staff in the principles of business finance.