Business information – ready when you are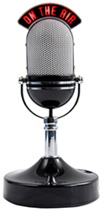 Running a business can be hard work. There's so much you have to know. So, how can you learn about business, whilst carrying on your daily work routine? You can read business books – but not when you are working; you can go on training seminars – but they cost time and money. Or, you can listen to other people who've been right where you are now and know their way around a business.
Welcome to Essential Business Radio, the place to come for expert opinions, quick tips and practical, no-nonsense advice from enterprise experts and other business owners. Join Julie Stanford and her guests, as they talk about everything you need to know to start and run a thriving, successful business.
There are various business categories to explore:
Starting out – expert tips for getting it right from the beginning.
Planning for success – helping you discover what you want from your business and how to get there.
Marketing and sales – expert help to find your best customers and get those sales flowing in.
Money talk – from cash flow to capital, practical tips on figuring out your finances.
People power – we discuss training and managing staff to get the best for your business.
Keeping it legal – non-nonsense pointers on your legal rights and responsibilities (mainly relates to the UK).
Managing your business – building and growing your business.
Depending on how much time you have available, choose between:

Quick Tips – 5-minute tips from business experts across all areas of business. When you don't have time to listen to longer shows, these quick tips are designed to get you thinking about just one area of your business.

Masterclass – 15-minute sessions with business experts, helping you build your skills and know-how one step at a time. These masterclases are designed to help you dive deeper into a single skill or a particular aspect of business.

Business Spotlight –15-minute sessions with business owners who say how they did it… and how you can too. They tell us how they started, how things are now and their aims and ambitions for the future.

In Conversation – 30-minute conversations with business experts, with the emphasis on how to apply their expertise to your business. Julie has experience across all aspects of business and so can tease out practical tips to help you succeed.
Why not take part?
Working with Julie on her radio show was great fun. She has a real gift for bringing people together, making them feel relaxed and then helping them to communicate with her listeners effectively and engagingly. She knows when to prompt with a pertinent question and when to take a back seat and let her guests do the talking, recognising that it's the guests that make a programme.

Julie also ensures her guests get a chance to promote their business without the programme turning in to one big sales message. Taking part was enjoyable, stimulating and rewarding on both a professional and personal level — I hope she'll have me back one day!

Steve Bustin, Media and communications speaker, trainer and coach
Read more recommendations, and find out how you can become a guest, on our Join our guests page.