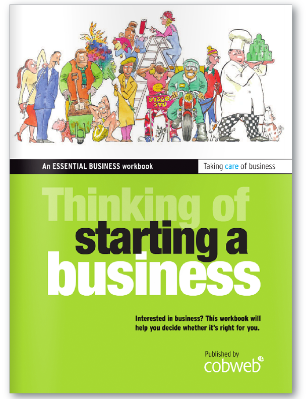 About this workbook
Thinking of Starting a Business helps you consider what makes a successful business start up. It shows the importance of having a clear vision and values and explains what skills you need. It also prompts you to think about what sort of business matches your personal circumstances and lifestyle.
Topics covered include:
What makes a business successful.
The importance of having a clear business vision and strong values.
What skills a business owner needs.
What type of business fits with their business idea and personal circumstances.
The workbook takes a simple, step-by-step approach and includes 12 integrated worksheets that build towards an action plan.
Features:
Plain English caters for all reader levels.
The 12 worksheets build towards an action plan.
Numbered steps make sections easy to follow.
Full-colour printing and illustrations add a 'light touch' feel.
Boxouts contain tips and useful resources.

52 pages, full-colour, illustrations, 12 worksheets and action plan.

£14.95 including free delivery.

Take a look inside
Download sample pages from Thinking of Starting a Business or take a look through the pages below. (Hover over the page edges to browse through the workbook, or click on the pages to read.)
Interested in using this publication with your clients?

Substantial discounts available on volume orders for licensed professional use. The more copies you buy, the more you save. Compare volume pricing options »

Custom options available with multiple-copy orders. Find out more »