The British Library's Entrepreneur in Residence, Stephen Fear, recently reviewed our finance workbook.
Understanding Your Business Finances, was produced in partnership with Johnny Martin FCA. Johnny is a regular presenter at British Library workshops, and has helped hundreds of small business owners to understand their business finances and to be less baffled by business numbers.
Watch Stephen's review and listen to what he says about the workbook…
"A walk-through guide to the financial side of your business"
Recently, Madeline Bruce reviewed Understanding your Business Finances for the UK2.net blog.
Here's what she had to say about the workbook:
Johnny's book, Understanding Your Business Finances, does exactly what it says on the tin. It is, essentially, a walk-through guide to setting up the financial side of your business — regulating cash flow, reporting profit and loss, and figuring out a balance sheet all crop up in chapter one.Johnny Martin knows his financial stuff. He knows what's required to get a business off the ground and keep it there. He knows the best practice approach to make the most from your investment. He knows just how important the little things are in the financial side of business. Do you?

Starting a business can be a really testing experience. Regardless of whether or not your product should fly off the shelves, there's a whole load of hurdles that you'll have to clear just to get going, and the financial bits and bobs can be pretty tough hurdles to vault.
Read what else Madeline had to say »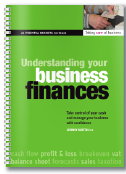 Find out more about Understanding Your Business Finances