As an enterprise educator, you face the constant pressure of providing high-quality, comprehensive information for your students or enterprise hub. Your resources have to be affordable and of very high quality.
Quality materials designed to engage students
Over the past ten years, we have helped colleges and universities support their students and deliver contracted services. Our off-the-shelf information guides and training workbooks can be used as they stand or can be customised for your institution's needs. Browse the publications below, or call Marianne Whitfield on 0191 461 8020 for more information about how we can help.
For students who are considering starting a business
Thinking of Starting a Business
This full-colour workbook is aimed at students who are wondering if starting their own business is the right choice for them. It provides a wealth of practical material and is ideal for use with groups who are considering self-employment. It is intentionally 'light touch' and prompts students to consider the realities of starting and running their own business.
Enterprise educators who buy this workbook:
use it as learning material for one-day, pre-start-up courses
give it to students who are not sure whether business is right for them
customise it with their own content, colours and brand
use as 'off the shelf' learning material for training contract fulfilment
like the style and tone of the writing and illustration.
The workbook takes a simple, step-by-step approach and includes 12 integrated worksheets that build towards a simple business action plan. Find out more »
Essential Start-up Guide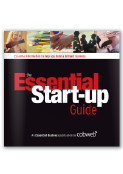 This 24-page booklet covers the things your students need to do when they first set up their business, such as choosing a business name, registering the business, and so on.
Enterprise educators who buy this guide:
use it as a gift publication for their students or enterprise hub visitors
buy bespoke versions with their logo and content added
like the full-colour style and design of this handy guide.
Volume discounts and customisation options are available. Find out more »
For students who want to know more about practical business
Planning and Starting a Business
This workbook has a simple aim: to help your enterprise students avoid rushing into a business idea without thinking carefully about it first or to help them understand the day-to-day reality facing a business owner. It takes them step by step through the important first stages of a new business, helping them answer questions such as: What is your vision for your business? What skills do you need? How will you find customers? How much will it cost to start up?
Enterprise educators who buy this workbook:
use it as learning material for business start-up courses
provide it to distance learning course participants
use it as 'off the shelf' learning material for contract fulfilment
buy bespoke versions of the workbook, with their logo, colours and content included
like the step-by-step approach and use of plain English.
The workbook includes 34 worksheets (also supplied as Microsoft Office® documents) to help students develop a business plan they can really understand. Find out more »
All the information that I received on this workshop was everything and more that I needed. Questions that I needed to be answered were covered… I wish [the workshops] could have been longer. We were provided with training books and hand-outs which were extremely informative and straightforward and I find that I still refer to them.
Dionne Paris, start-up workshop participant
Essential Business Guide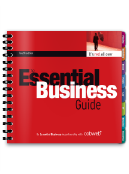 All the small business information in The Essential Business Guide is clearly written and easy to follow. It assumes no prior knowledge of business or business terms, so it's the perfect reference guide when students are just starting out or for alumni who have been in business for a while. We take complex information and make it readable and quick and easy for students to find.
Enterprise educators who buy this guide:
offer it as prizes for enterprise or pitching competitions
use it as a reward for completion of business training courses
buy bespoke versions with their logo, colours and content included
put it on coffee tables in reception areas and enterprise or growth hubs
like the colourful design and the 'dip in and out' nature of the writing and layout.
The Guide is also a useful reference guide to be kept on the desk of enterprise educators and business support staff. Find out more »
The book's strength is that it is so easy to navigate, letting you find the information you need quickly. It's also very practical, providing checklists to make sure you've met obligations as well as details for virtually any organisation a small business might need. EN magazine
Understanding Your Business Finances
This wirobound workbook provides expert guidance on everything from raising finance to managing money. The author, Johnny Martin FCA, is an experienced finance director who has hands-on experience of the nitty-gritty of small business finance. With integrated worksheets, practical examples and step-by-step guidance, this comprehensive workbook provides ideal learning material for finance workshops and courses.
Enterprise educators who buy this workbook:
use it to deliver post-start-up business financial training
are working with the Start Up Loans Company
use it with their high-growth alumni business start ups
like the interactivity, real-life examples and clear explanation of a complex subject.
The 12 integrated worksheets help your students understand the three main financial reports: cash flow forecast, profit and loss report and balance sheet. Find out more »
Brilliantly written by someone who understands the needs of the small business community…"
Dr Stephen Fear, Entrepreneur in Residence & Ambassador, British Library
Essential Business in your college or university

Essential Business guides, workbooks, courses and resources offer a cost-effective way to acquire tried and tested materials that can be customised to reflect your brand. Discounts are available on volume orders for licensed professional use.
To buy single copies (for personal use or review), visit our online shop or if you would like to place a bulk order or find out more about bespoke publishing options, please take a look here or call Marianne Whitfield on 0191 269 6991.